Indulge in a culinary adventure that will leave your taste buds tingling and your weekends unforgettable! Dubai, the vibrant city that never sleeps, is teeming with an array of gastronomic delights, beckoning food enthusiasts to embark on a journey of delectable discoveries.
As the sun sets and the weekend spirit kicks in, a symphony of flavours awaits, where gourmet experiences and tantalizing offers converge to create the perfect recipe for an extraordinary weekend.
From mouthwatering brunches that redefine indulgence to hidden gems tucked away in bustling neighbourhoods, Dubai has something to satisfy every craving. So fasten your seatbelts and get ready for a tantalizing ride through the city's culinary wonders, as we unveil the hottest eateries and irresistible offers that will transform your weekends into unforgettable feasts. Dubai is calling, and the adventure starts here!
Fouquet's – Old French fashioned cocktails
There is nothing more splendid than the marriage of delicious food and a superbly crafted cocktail. Fouquet's is deeply rooted in the world of Old French Fashioned cocktails and the joy that these creations can bring, especially given the historical DNA of each drink.

Indeed, the Old-Fashioned plays a pivotal role in Fouquet's history, representing our unwavering commitment to preserving culinary traditions while embracing the art of mixology.
So, for six days only, from 15th May until 21st May, from 5pm until 7pm, Head Bartender Stevan will host an engaging and educational cocktail masterclass and pairing, showcasing a different Old-Fashioned French cocktail each evening on Fouquet's fabulous rooftop.
In addition to this super experienced bartender sharing his industry know how, each guest will also enjoy their own cocktail, paired beautifully with one of the restaurant's signature dishes as a 'cocktail bite' that will complement and enhance the flavours, for Dhs350 per person.
France has long been known for its culinary know-how and that extends beyond food and wine to classic French cocktails. As they do with food and wine, the French know how to make a balanced and pleasing cocktail.
The masterclass and pairing experience includes French 75, a light, aromatic, effervescent cocktail that offers the perfect balance of Champagne, lemon juice, and aromatic dry gin. This will be paired beautifully with salmon gravlax with caviar. The iconic Sidecar is created with French brandies that have a deep complexity and beautiful flavour profile. This also includes Cointreau and freshly squeezed lemon juice that will prove the perfect accompaniment to foie gras de canard.
The Kir Royale is a delicious cocktail that combines Champagne and crème de cassis.  It is equal parts aromatic and sweet with a bitter hint from the blackcurrants, enjoyed with pink prawns with cream. A combination of classics sees the aromatic and sweet, French Martini served alongside Fouquet's beef tartar. A match made in French heaven! The delicious French Connection that melds Cognac and amaretto will sit perfectly alongside duck rillettes and gherkins. The Kir that is a non-fizzy Kir Royale, paired with the freshest crab salad and snow beans.
Each evening will take guests on a mouth-watering, tour de force that will set their palates alight with a thoughtful curation of classic French cocktails and accompanying dishes. Running for six nights only, this is certainly one for the gourmand's diary all while enjoying the last of the nice weather and amazing city views from the rooftop!
Yummy Masala Dosa
Join the Mumbai-Style Street food specializing restaurant, Yummy Dosa as it turns 6. And to celebrate this milestone, they are offering their scrumptious Masala Dosa for an incredible price of just Dhs6! This deal is available all day from 17th to 30th May 2023. Indulge in the perfectly spiced potato filling and crispy golden dosa bursting with flavours.
And while you are there, check out their extensive ala carte menu offering over 99 different types of Dosas with a taste palate straight from the streets of Mumbai satisfying every kind of dosa lover. Join in the celebration and treat yourself to some delectable dosa goodness! Make sure to mark your calendars and spread the word to all the dosa lovers out there.
From humble beginnings with a single small outlet in Karama, Yummy Dosa has come a long way. In just six years, they have expanded their presence to three locations: Karama, Discovery Gardens, and Sharjah. This remarkable growth is a testament to their commitment to delivering delicious dosas and exceptional service. And with its existing outlets thriving, Yummy Dosa is now setting its sights on an even greater expansion. Their success story continues as they plan to bring their mouth-watering dosas to more hungry customers in new locations.
Homegrown luxury cake experience
Varak, the renowned homegrown luxury pâtisserie brand based in Dubai, is offering a range of delectable cakes that are meticulously handcrafted with an unwavering dedication to using the most exceptional and fine ingredients available. Whether you find yourself organizing a lavish summer soirée or simply seeking to indulge in a moment of pure bliss with a sweet treat, Varak is your ultimate destination for unparalleled culinary delights.
At the heart of the menu lies a true masterpiece: the extraordinary Mango Trifle. Available in small, medium, and large sizes and served in a glass tray, this dessert is a delightful combination of moist vanilla cake soaked in the richness of mango pulp, layered with mango chunks, and custard cream, providing a refreshing journey with every bite. The Mango Trifle starts from Dhs110.
Another highlight of the summer menu is the Mango and Cream cake, which harmonises the juiciness of succulent mango chunks with the delicate allure of vanilla Chantilly crème and is adorned to mimic an edible mango flower. This seasonal delicacy starts from Dhs110.
For those seeking a lighter yet utterly satisfying treat, Varak's exceptional selection of three new cake options is perfect for summer indulgence. The Vanilla Praline Cake features Varak's unique take on classic Butterscotch, with a crunchy praline nutty garb seamlessly weaving together the timeless appeal of a classic vanilla cake.
The Berry Cream Cheese Cake boasts a house berry compote sleeve between sheets of cake and cream cheese mousse, while the Pineapple and Cream Cake is a classic vintage cake, with pineapple chunks embroidered with moist vanilla cake and laced with vanilla Chantilly cream. With each decadent forkful, your palate will be treated to the harmonious interplay of sweet and tangy flavours. Prices for summer light cakes start at Dhs110.
Delight your own senses and impress guests at an elegant gathering. These cakes serve as a centrepiece that embodies the season's essence, elevating any occasion to new heights of culinary excellence. Every occasion deserves a touch of elegance, which is why Varak takes immense pride in curating a collection that transcends the ordinary.
Punjabi food with Dhaba vibes
The North-Indian restaurant – Dhaba Lane known for serving Punjabi food with Dhaba vibes is bringing you the refreshing Indian Summer staple, the Ice Gola! Made with crushed ice infused with flavours that will linger on your tastebuds throughout the day, this Baraf ka (Ice) Gola is perfect to beat the heat. Why bound yourself to one flavour when you can have them all? Select one, two or all six flavours they have to offer.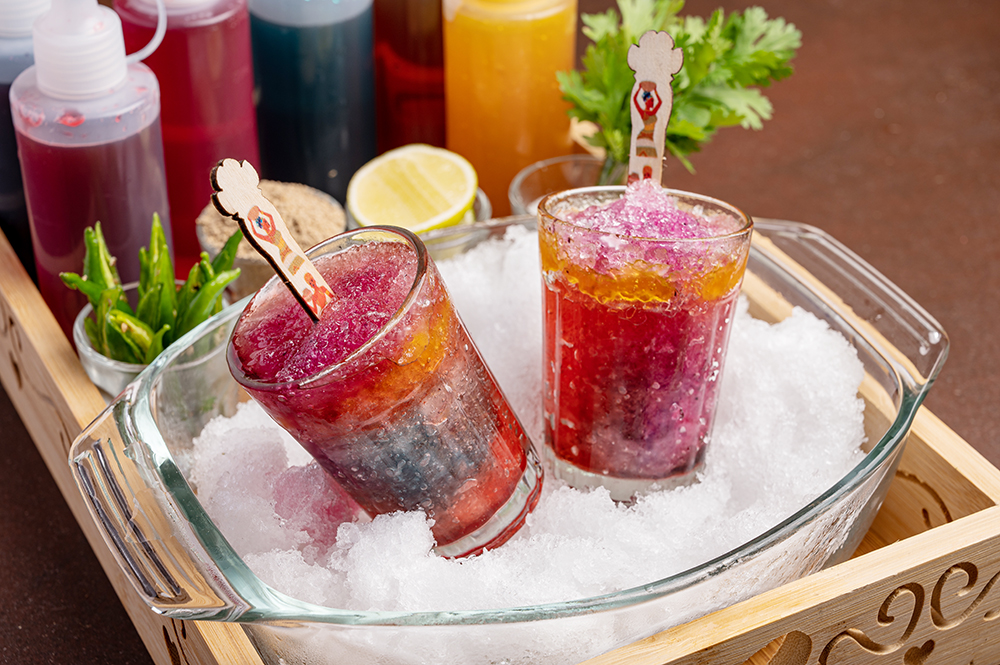 A tray filled with all the flavours and Two Ice Golas will arrive at your table where you can see the flavours infuse live and sprinkled with Nimbu Masala (Lemon Spice) for an added zest. Choose from the irresistible flavours including the King of Fruits, a perfect summer treat bursting with tropical flavours with a refreshing sweet tang – Mango. Fresh Rose and Strawberry; sweet Jamun and Maple or one with a punch – Blue Curacao. Be creative in choosing your perfect mix of flavours & guess what- unlimited flavour refills are allowed so you enjoy your Ice-gola till it's last bite.
Priced at Dhs20 for two, these Ice Golas are available in all their outlets throughout summer during lunch between 12:00 pm to 4:00 pm. Indulge in the syrupy and cold goodness just like the ones served in the gullies of India.
Punjab Grill
Punjab Grill – the Michelin Guide restaurant with destinations dotted around the world serving modern Indian cuisine, is delighted to unveil its anticipated Tasting Menu. Offering an elaborate 7-Course, prepare to embark on a gastronomic journey where the artistry of Chef Sandeep Ail takes centre stage, transcending the boundaries of mere food. This extraordinary menu not only reflects his food philosophy but also unveils his profound ability to weave narratives through his culinary creations—stories brimming with emotions, experiences, and, above all, love.
From the very first amuse-bouche to the sublime desserts that grace the finale, every element of the Tasting Menu is thoughtfully composed to ignite a sense of connection with the dishes. The menu takes the traditional Indian ingredients and techniques with innovative twists, creating a harmonious symphony of taste that resonates with diners on a profound level.
Available in both Vegetarian and Non-Vegetarian options for everyone to relish, this tasting menu is priced at Dhs250 (v) and Dhs300 (nv) for the 6-Course. Have a bigger appetite or you just can't seem to get enough? Opt for the 7-Course priced at Dhs300 (v) and Dhs350 (nv). This menu is available all day starting Sunday to Saturday.
Antika Dubai
Bored of the same old brunch spots? Well May is your lucky month… Iconic venue Antika Dubai has a delicious new Saturday brunch kicking off this weekend in the heart of vibrant DIFC!
Take your weekend gang and sample the best live entertainment including a DJ, dancers and singers and enjoy mouth-watering collection of authentic Levantine dishes in ample indoor seating and tuck into authentic Levantine dishes – some that may be familiar, some you'll be enjoying for the first time.

Culinary highlights at the new Antika brunch include Nayyeh Tray (minced raw, seasoned meat), Makanek (spiced sausage), Potato Harra (spicy potato), Rass Asfour Pesto (meat with basil sauce) – as well as succulent Duo Grilled Chicken and Ribeye Steak.
Not forgetting sweet and syrupy Grilled Kunnafa for dessert… YUM!
Antika Dubai has also recently unveiled a gorgeous new look and feel to cater to its ever-growing clientele – so you'll be brunching in style.
tanvir@dubainewsweek.com
ALSO READ: