Global Village opened on October 25, 2022 and will last till April 29, 2023, bringing the world back together for Season 27 in Dubai.
With different cultures represented through food, entertainment and shopping experiences, Global Village is a melting pot of diversity and a must-visit destination for tourists and residents alike. This season, visitors can expect a host of new attractions, including live concerts, theatrical performances and an expanded shopping experience.
The Global Village Season 27 promises to be a one-of-a-kind experience for all those who attend.
What to expect at Global Village 2023
The new season brings together more than 3,500 shopping outlets across its 27 pavilions.
A new concept "Road of Asia," which features products from 13 Asian countries, adds to the Global Village's experience.
250 restaurants, cafes, and street food options. That's not it. This season also includes over 50 new dining concepts.
200 performances each night with 400 performers from over 40 nations.
40,000 shows.
More than 175 rides, games and attractions in Carnaval™ and the new Global Village Big Balloon.
This time a third new entrance has been introduced, the Happiness Gate.
A unique fleet of some of the world's most recognisable and iconic cars to the streets of the emirate of Dubai.
There is no doubt that Global Village has been an international phenomenon for nearly thirty years, helping Dubai to consolidate its position as a global hub for tourism and entertainment.
The authorities always make sure to find new and unique ways to take the guest experience to the next level during the show.
Visitors have great chances to win big at the Global Village. Residents and tourists can take a photo of Wonder Rides, post it on their social media accounts, tag #WonderRides and stand a chance to win some exciting prizes. Global Village plays a major part in the UAE's economy, creating hundreds of jobs in Dubai every year.
New attractions
Global Village Big Balloon.
House of Fear, the scariest haunted house in the region.
Diggers Lab, a hydraulic digger experience located at the entrance of Carnaval™.
Entertainment
Globally renowned performers will enthral the audience.
New stunt show.
World-class concerts.
Street entertainment.
200 performances every night.
Guests can also shop at the Road of Asia, which is a new pedestrian street featuring 43 kiosks from 13 Asian nations with authentic products from Sri Lanka, Indonesia, Cambodia, Malaysia, Brunei, Laos, Hong Kong, Vietnam, Taiwan, Bhutan, Nepal, Myanmar and Philippines.
Global Village timings
Opens daily Sunday to Thursday from 4.00 pm until midnight.
Friday, Saturday, and public holidays, 4.00 pm until 1.00 am.
Entry gates are closed 30 minutes before Global Village's closing time.
Tuesdays are exclusively reserved for ladies and families except on public holidays.
Global Village Ticket price
Global Village ticket price for Season 27 starts at just Dhs18.
New ticket options to be introduced in Season 27.
The "Value" ticket, valid from Sunday to Thursday (excluding public holidays), will encourage weekday visits.
"Any Day" ticket provides visitors the flexibility to enter Global Village any day they like including the public holidays.
Tickets bought on the Global Village mobile app or website will be discounted by 10 percent.
Global Village VIP packs
Diamond VIP packs are available on sale at Dhs6,000 with benefits worth over Dh28,000.
Platinum Packs can be purchased for Dsh2,500 with benefits worth around Dh15,000.
The Gold Packs cost Dh1,950 with benefits worth Dhs13,000.
Silver Packs are priced at Dhs1,600 with benefits valued at Dh10,000.
Location
Global Village Dubai is situated on Mohamed Bin Zayed Road (E311) and is easily accessible by public or private transport.
A wonder ride to win Dhs27,000
As part of Happiness Fest, Global Village has announced the "Wonder Rides" activation.
Every day, guests can discover iconic taxis from the United States, Cuba, Mexico, Japan, Thailand and Lebanon, and participate in entertaining backseat challenges.
Once a challenge has been completed successfully, the participant will be entered into a raffle draw for a chance to win Dhs27,000.
Global Village bus routes
The Roads and Transport Authority (RTA) in Dubai has announced the resumption of four bus routes to cater to tourists and visitors of Global Village.
Route 102 from Al Rashdiya Bus Station at 60 minutes interval.
Route 103 from the Union Bus Station at a frequency of 40 minutes
Route 104 from Al Ghubaiba Bus Station at 60 minutes interval.
Route 106 from the Mall of the Emirates Bus Station every 60 minutes.
If you are  a Ras Al Khaimah resident and don't have a car to visit the Global Village in Dubai, here is good news for you. Now you can take a public bus ride right from the emirate of Ras Al Khaimah to Global Village. A one-way ticket costs Dhs30.
The bus service is available every Friday, Saturday and Sunday with two round trips.
Trips from the emirate of Ras Al Khaimah to Global Village in Dubai are scheduled at 3:00pm and 5:00pm, while those from the family-friendly destination, back to Ras Al Khaimah are at 10:00pm and 12:00am.
The service is provided during the weekends from the main bus station in Ras Al Khaimah to the public bus stops in Global Village.
Ramadan shopping
Global Village has announced new offerings and special activities to take place during the holy month of Ramadan.
Global Village is the perfect place for guests to find those special Ramadan flavours and decorations with 3,500+ shopping outlets. For Ramadan home accessories the Egypt, Turkey, and Al Sana'a pavilions will be selling a selection of collections and on-off pieces, while tasty dates and sweets can be found at the KSA, Syria, and Oman pavilions.
The UAE, Yemen, Pakistan, Kuwait and Bahrain pavilions will be the places to go for anyone looking for spices and condiments to add that something extra to their Ramadan dishes.
Majlis of the World
Global Village, the UAE and wider region's leading multicultural family destination for culture, shopping, and entertainment, announced that bookings are now open for Majlis of the World.
The Majlis of the World offers an extra special Ramadan experience for families and friends to come together and celebrate the holy month.
Best customer service
Global Village has won two highly coveted awards at this year's cycle of the Dubai Economic and Tourism's Dubai Quality Awards and Dubai Service Excellence Scheme (DESES) Awards.
The awards recognise organisations who have demonstrated exceptional standards of quality and excellence in customer service.
Global Village gives back
Global Village has announced that it will be donating 15% of entry ticket revenues on the day of The Virgin Radio 15th Birthday Concert.
Entry to the concert is included in the purchase of a Global Village ticket with 15% of proceeds going to the Red Crescent Bridges of Giving, UAE relief campaign, in support of those affected by the recent earthquakes in Syria and Turkey.
 What residents, tourists say about Global Village?
"As a tourist from Europe, I love to visit Global Village because of the opportunity to experience cultures from all around the world in one place. It's a great way to learn about different traditions, taste new foods, and see performances from various countries," said John Smith.
"As a tourist from Japan, I enjoy visiting Global Village Dubai to see the intricate artwork and handicrafts on display. I'm always amazed by the level of detail and skill that goes into creating items like pottery, textiles, and jewelry from different cultures," said Aiko Nakamura.
Ravi Singh, an Indian expatriate residing in Dubai said, "I find Global Village to be a great place to shop for unique souvenirs and gifts. There are so many vendors selling handmade goods, spices, and textiles from around the world that I can always find something special to bring home."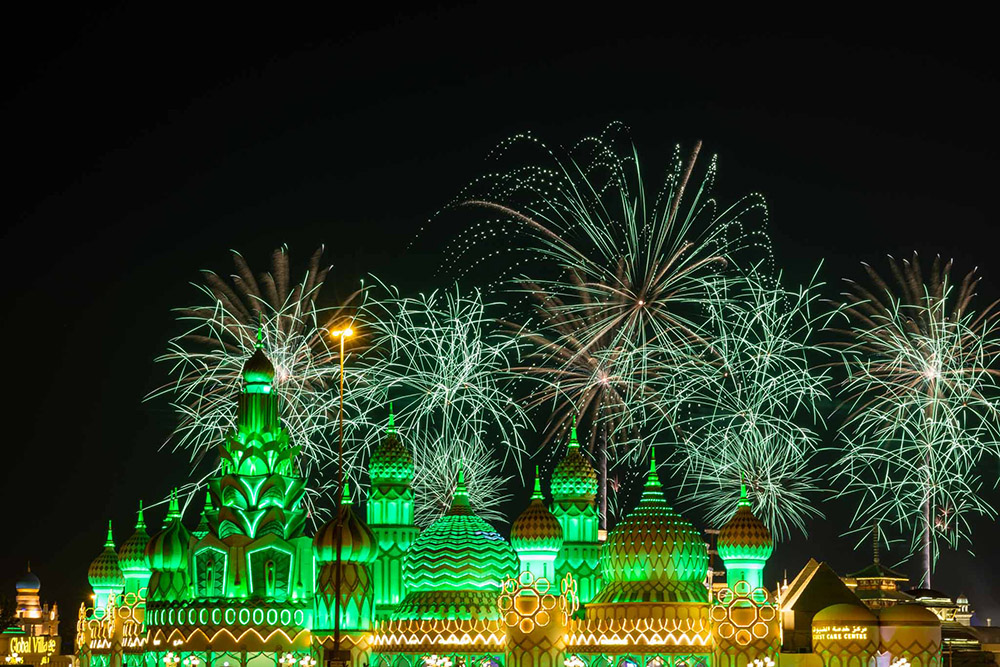 "I love the festive atmosphere at Global Village. There's always music playing, colorful decorations, and people dancing in the streets. It feels like a celebration of cultures from around the world," said Juliana Costa who hails from Brazil.
Fatima Ali, a Pakistani expat from Sharjah said, "I love to visit Global Village because of the opportunity to taste a variety of international cuisines. From Turkish kebabs to Italian pasta, there's something for every taste bud. I also enjoy trying different types of tea from around the world, as tea is an important part of Pakistani culture."
"I enjoy visiting Global Village to see the traditional dances and music performances from different cultures. It's fascinating to see how similar themes and rhythms can be found in various types of music and dance from different parts of the world. Plus, the colourful costumes and energetic performances are always a treat for the eyes and ears," said Maria Cruz, a Dubai resident from Manila, Philippines.
Five reasons you should visit Global Village Dubai
Well, if you have not decided yet to visit Global Village, here are some of the reasons you should visit the entertainment destination in Dubai at least once in life time.
Cultural Experience: Global Village offers visitors a chance to experience the traditions and cultures of all the countries in one location. From authentic food to entertainment and shopping, the event provides a glimpse into the diversity of the world.
Entertainment: Global Village has a wide range of exciting activities and entertainment options for visitors of all ages. From thrilling rides to live shows and concerts, there's something for everyone.
Shopping: With more than 3,500 retail outlets, Global Village is a shopper's paradise. Visitors can browse for unique souvenirs, handicrafts, clothing, jewelry, and much more from all over the world.
Family-Friendly: Global Village is a family-friendly destination with plenty of activities and entertainment options for kids. From carnival games to live shows and cultural performances, there's always something to keep children engaged and entertained.
Seasonal Festivities: Global Village is known for its seasonal festivities and special events. From winter holidays to cultural celebrations and concerts, there's always something happening at Global Village throughout the year.
About Global Village:
Global Village is a one-of-a-kind destination in Dubai that offers visitors a unique cultural experience. Visitors can explore and learn about different cultures from around the world, while also enjoying exciting entertainment, shopping, and dining options.
The seasonal festivities and family-friendly atmosphere make it a popular attraction for both UAE residents and tourists. Furthermore, with its commitment to support charitable causes such as earthquake relief, Global Village is not only a fun and entertaining destination, but also one that gives back to the community.
tanvir@dubainewsweek.com
ALSO READ: