SeaWorld Yas Island, Abu Dhabi, the region's inaugural Marine Life Theme Park, has officially opened its doors to the public, providing exhilarating experiences and immersive adventures for guests of all ages.
The grand opening ceremony of SeaWorld Abu Dhabi was a spectacular event featuring performances by Emirati superstar Hussain Al Jassmi and Scottish recording artist Red. Accompanied by a sensational orchestra of 120 musicians, they mesmerized the audience with their captivating talents.
SeaWorld Yas Island Abu Dhabi
SeaWorld Abu Dhabi, developed by Miral in collaboration with SeaWorld Parks & Entertainment, is a state-of-the-art Marine Life Theme Park and the latest addition to Yas Island's collection of theme parks. With a strong emphasis on zoological conservation, SeaWorld Parks & Entertainment is a renowned educational theme park and entertainment company.
Wonder of the Ocean
The festivities commenced in the One Ocean realm, where guests had the exclusive opportunity to witness SeaWorld Abu Dhabi's breathtaking show, "One Epic Ocean." This immersive production combined multimedia presentations and cutting-edge spatial audio technology to showcase the mesmerizing wonders of the ocean. The stage came alive with a swirling vortex of sound and light, illuminating the One Ocean globe.
Connecting the Ocean and Humanity
The symbolic moment of the official opening of SeaWorld Abu Dhabi represented the profound connection between the ocean and humanity. The audience was treated to captivating performances by the orchestra and Red, culminating in a special track dedicated to SeaWorld Abu Dhabi, performed by Hussain Al Jassmi. As a breathtaking finale, three-dimensional silver figures resembling marine animals graced the stage, inviting guests to explore the newly unveiled park.
Exploring Marine Life
SeaWorld Abu Dhabi offers an unforgettable experience for visitors to explore the wonders of marine life and enjoy thrilling adventures. Spanning five indoor levels over 183,000 sqm, the park takes guests on a captivating journey of discovery across eight immersive realms. These realms seamlessly blend learning and fun, providing unique family-friendly experiences, up-close animal encounters, animal presentations, inspiring entertainment, exciting rides and attractions, as well as unmatched dining and shopping experiences.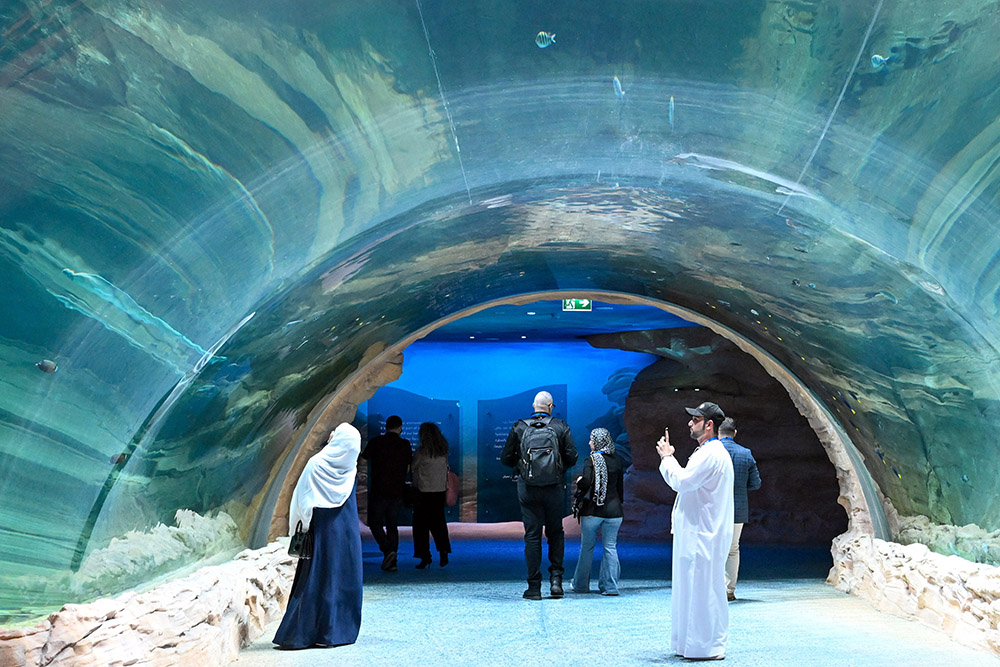 Dignitaries in Attendance
The event was graced by the presence of dignitaries and officials, including Mohamed Khalifa Al Mubarak, Chairman of Miral, Scott Ross, Chairman of SeaWorld Parks & Entertainment, and Mohamed Abdalla Al Zaabi, Group CEO of Miral. They welcomed Dr. Mugheer Khamis Al Khaili, Chairman of the Department of Community Development, along with government officials, ambassadors, and chargé d'affaires from various countries.
A Landmark Attraction
Mohamed Khalifa Al Mubarak expressed his enthusiasm for the opening of SeaWorld Yas Island, Abu Dhabi, emphasizing its unparalleled status as a landmark attraction in the region and the world. He highlighted SeaWorld Abu Dhabi's role in promoting environmental awareness, protecting marine life, and contributing to Abu Dhabi's tourism vision. Al Mubarak also emphasized the park's commitment to animal care and welfare and its potential as a knowledge hub for science and conservation.
Scott Ross shared his excitement for SeaWorld Abu Dhabi, the first SeaWorld park outside the United States. He emphasized the collaboration and innovation that went into creating this extraordinary Marine Life Theme Park. Ross expressed confidence that guests would be amazed by all that SeaWorld Abu Dhabi has to offer, while also fostering their commitment to marine conservation.
Unique Realms
SeaWorld Abu Dhabi's diverse marine-themed realms transport guests to different marine environments found across the globe. The One Ocean realm serves as the core of the park, sharing the One Ocean story through immersive media and housing the Animal Care Centre. Other realms include the Abu Dhabi Ocean, Rocky Point, Tropical Ocean, MicroOcean, Endless Ocean, and Polar Ocean. Each realm offers a unique experience and insights into specific marine ecosystems and species.
Animal Encounters
SeaWorld Abu Dhabi boasts 10 animal encounters and over 100 animal experiences and presentations, where guests can learn about fascinating marine animals such as dolphins, sharks, and sea turtles. These encounters provide an up-close and educational experience for visitors.
Rides, Attractions, Dining and Shopping
With over 15 interactive rides and experiences, SeaWorld Abu Dhabi takes guests on unique journeys beneath the waves. From the thrilling Manta Coaster in the Tropical Ocean realm to the immersive Hypersphere 360o in the Arctic Realm of the Polar Ocean, there are attractions for all ages. The park offers a wide range of dining options with 18 different experiences, catering to various tastes. Additionally, guests can find souvenirs and merchandise at the park's 13 retail outlets.
Yas Island's Theme Parks
SeaWorld Abu Dhabi has earned certification from Global Humane, making it the first facility in the MENA region to achieve this recognition. It joins Yas Island's portfolio of theme parks and attractions, which includes Warner Bros. World Abu Dhabi, Ferrari World Abu Dhabi, Yas Waterworld, and CLYMB Abu Dhabi. Together, they establish Yas Island as a popular leisure destination.
SeaWorld Yas Island, Abu Dhabi, is set to provide visitors with a unique and awe-inspiring experience, where they can immerse themselves in the beauty and wonder of the ocean while learning about the importance of marine conservation.
tanvir@dubainewsweek.com