Dubai's tourism industry has begun the year 2023 on a bright note with vital growth indicators closing in on pre-pandemic levels, giving the emirate a head start in the race to achieve its strategic long-term targets over the next decade.
With public and private sector players rolling out a series of mega projects and major global hospitality brands making a beeline to invest in the emirate, tourism is set to be a big contributor to the Dubai Economic Agenda D33's goal of doubling the city's economy in the next 10 years.
With Dubai expanding its status as a global gateway for trade and investment and its role as a bridge between markets and cultures, tourism is expected to grow in parallel. In 2022, the emirate's tourism sector contributed $29.4 billion to its economy, according to the World Travel and Tourism Council (WTTC).
Dubai tourism growth
Dubai's ambitious plans for tourism growth also support a national strategy launched in November last year by His Highness Sheikh Mohammed bin Rashid Al Maktoum, Vice President and Prime Minister of the UAE and Ruler of Dubai, to attract Dhs100 billion in additional tourism investments and receive 40 million hotel guests in 2031.
The plan, which includes 25 initiatives and policies, has whetted fresh global investor appetite for a slice of the rapidly-growing tourism pie.
Helal Saeed Almarri, Director General of Dubai's Department of Economy and Tourism, said: "Dubai's ability to simultaneously leverage new opportunities and industry trends whilst navigating the impact of global challenges has made it one of the world's most attractive and fastest-growing tourism and economic cities. With a unique and diverse tourism proposition, diversified market strategy, world-leading urban infrastructure, inclusive and cohesive public-private partnership ecosystem and high safety and security, Dubai continues to be the preferred choice for global travellers.
D33 Economic Agenda
"Dubai's tourism growth surge mirrors its development into a leading hub for trade, commerce, investment, talent and entrepreneurship. With the D33 Economic Agenda charting a visionary new growth path for development, Dubai is set to further consolidate its status as one of the world's top international business and tourism destinations."
Global recognition
The start of 2023 saw Dubai's global tourism profile being boosted with a flurry of global accolades. The city was ranked as the world's most popular destination for holidaymakers in Tripadvisor Travellers' Choice Awards 2023 for a second year in a row.
Dubai also took the second spot behind Paris in a Euromonitor report on the world's top 100 city destinations. For the ninth year in a row, Dubai International Airport was named the world's busiest international passenger hub in 2022.
International visitors
The tourism industry's Q1 2023 performance metrics augur well for high-octane growth this year. Dubai welcomed 4.67 million international overnight visitors in the first quarter of 2023, compared to 3.97 million tourists during the same period in 2022, a 17% increase.
More tellingly, the first quarter figures were merely 2% less than the pre-pandemic inflow of 4.75 million international overnight visitors in the first quarter of 2019, making the city a frontrunner in the global tourism industry's rebound. Emirates NBD said in a recent report that the strong start to the year is a promising sign that Dubai could exceed the record of 16.7 million visitors it set in 2019.
Dubai Airports forecasts the total number of passengers passing through the city in 2023 to reach 78 million.
Dubai hotels
In the first quarter of the year, the Dubai hotel sector's performance surpassed pre-pandemic levels across all key measures. Average occupancy for the sector in the January-March period stood at an impressive 83 %, making it one of the highest in the world, and almost on par with the 84 % occupancy recorded in Q1 2019.
This achievement is particularly notable given a 26 % increase in room capacity since then. Collectively, Dubai hotels provided 10.98 million Occupied Room Nights, a 27% rise from Q1 2019 and registered an Average Daily Rate (ADR) of Dhs607, a 22 % growth from Q1 2019. Revenue per available room (RevPAR) in Q1 2023 surged 21 % from the first three months of 2019 to reach Dhs504 while the average guest stay increased to 4 nights from 3.5 in the same period in 2019. In Q1 2023, visitor spend on accommodation also increased 22 % from Q1 2019.
MICE sector
The meetings, incentives, conferences and exhibitions (MICE) sector emerged a prominent driver of tourism growth. Dubai registered its highest hotel occupancy rate in 15 years at the end of Expo 2020 last year, according to the latest KPMG Dubai Hospitality report.
Major global events to be hosted by the emirate in 2023, including the COP28 climate summit, the Dubai Airshow and a host of international business and sporting events, will put the global spotlight on Dubai not only as a prominent venue for global events but also as a magnet for tourists.
Rising investment
Dubai has introduced a new strategic plan for exponential tourism growth powered by a massive expansion of its hospitality and leisure infrastructure.
Mega projects
From island destinations to unique waterfront communities, Dubai is implementing new game-changing mega projects. Consistent with Dubai's ethos of private-public sector cooperation, the emirate's tourism mega projects are fostering synergistic partnerships that are creating new economic value.
Arabian Travel Market
The exceptional response that this year's Arabian Travel Market received from the international travel and tourism industry is a testimony to Dubai's investment opportunities. With over 2,000 exhibitors and 34,000 attendees from more than 150 countries participating, the trade show is expected to fuel new investment interest in Dubai's tourism sector.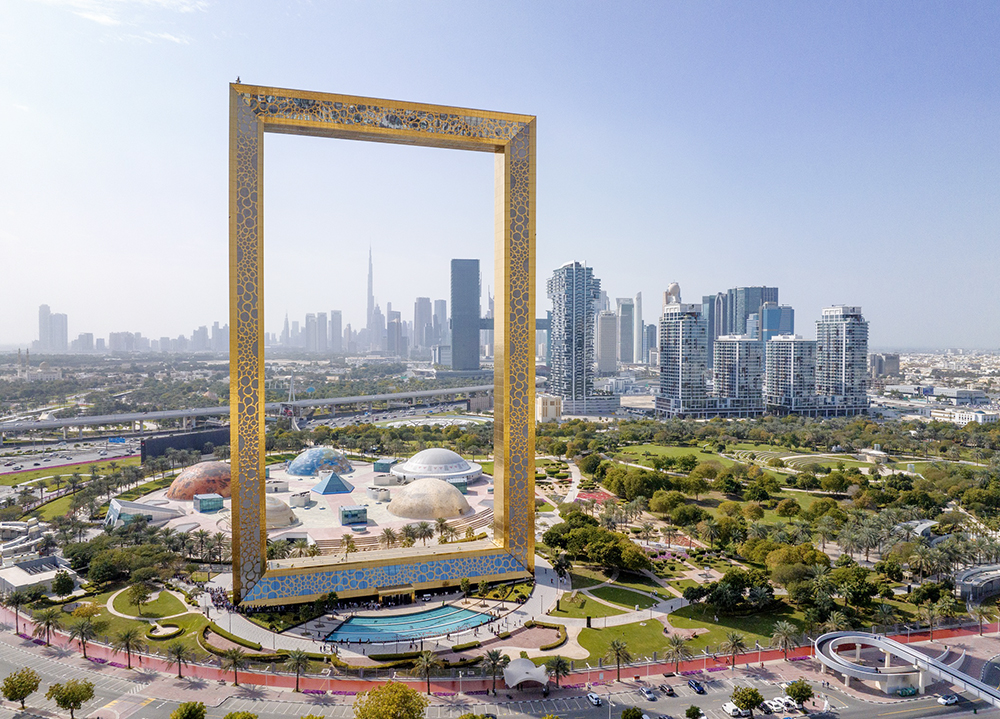 Recent investments have led to the growth of Dubai's hotel stock to 148,877 rooms in 814 hotel establishments compared to 118,039 rooms in 717 hotel establishments in 2019, a rise of 26 % and 14 % respectively. Another 8,000 rooms are expected to be delivered by the end of 2023, according to KPMG.
Dubai Islands
Nakheel is set to launch the Dubai Islands comprising five islands across a total area of 17 sq. km, a destination offering a mix of residential, retail, leisure and hospitality services.
A unique development that creates new experiences for international travellers, the Dubai Islands features 20 km of beachfront, 2 sq. km. of parks, and more than 80 hotels, including luxury and wellness resorts, and boutique, family and eco-conscious hotels.
The 6 sq. km Dubai Creek Harbour project, a joint venture between Dubai Holding and Emaar Properties set to be built over the next decade, featuring premium serviced apartments, residential complexes and parks, is set to further stimulate the city's tourism and hospitality markets. Other major projects include Meraas' newest seafront destination, Port de La Mer, which features six plots inspired by the elements of seaside living.
With the continued rollout of large projects, the city has steadily strengthened its position as a focal point for global tourism investments. Dubai currently holds the top global spot for FDI inflows into the tourism sector, according to The Financial Times' fDi Markets data.
In another vote of confidence for Dubai's emergence both as a tourism destination and a global commercial hub, Fairmont Hotels and Resorts last month relocated its global headquarters from Paris to Dubai.
Fairmont's parent company Accor said the decision was driven by the city's "strong position as a global hub; strategic proximity to Europe, Asia, and Africa; and the city's ability to attract top talent, brands, companies and investors."
The move reflects a larger shift in the centre of gravity of the global tourism industry from the west to the east. With nearly 40 % of Fairmont's current development projects located in the IMEAT (India, Middle East, Africa and Türkiye) region, the relocation to Dubai allows Fairmont to take advantage of vast opportunities in the region's fast-growing tourism markets.
Growing appeal for the global travellers
Dubai's distinctive identity that combines its cultural heritage with its futuristic outlook, and adventure opportunities with world-class shopping and entertainment have drawn a growing number of international visitors over the last few years.
Apart from a significant expansion in capacity, a series of events and developments in the last year have further enriched Dubai's appeal for travelers.
Expo 2020 Dubai
The hosting of the six-month Expo 2020 led to Dubai registering its highest hotel occupancy rate in 15 years of 96 %, according to the latest KPMG Dubai Hospitality report.
The global extravaganza recorded 24 million visits, of which more than a third were overseas travellers. With Dubai already having built a global reputation as a must-visit destination, visitors from around the world seized the opportunity offered by Expo 2020 to visit the city and explore its multifaceted offering, in addition to enjoying the unique experiences at the mega global event.
Dubai also became a focal point for the global football fraternity during the Qatar World Cup 2022. With almost 50% of flights to Doha coming from Dubai during the tournament, the emirate became the first choice stop-over city for vast numbers of football fans seeking to combine a trip to the World Cup with a holiday in the city, further boosting occupancy in the emirate's hotels.
One of the biggest catalysts in raising Dubai's appeal for travellers in the post-pandemic phase was the city's management of the crisis. Dubai was one of the first cities to resume international travel and business events after the pandemic.
The city implemented globally-benchmarked travel protocols and precautionary measures, which were among the most comprehensive and strictly enforced in the world, earning it the status of the world's safest travel destination. Tourism and allied sectors continue to reap the benefits of the city's handling of the crisis.
Dubai's rise as one of the world's great gastronomic destinations has also vastly enriched its tourism proposition. With world-class restaurants offering an incredible eclectic range of culinary delights, the city is drawing gastronomes from all corners of the planet.
In 2022, Dubai garnered more prestigious international awards for its restaurants than any other city. The world's most celebrated restaurant guides unveiled their local lists last year including Gault & Millau and the Michelin guide.
In the last few years, Dubai's travel, tourism and hospitality industries have also been at the vanguard of adopting and accelerating new trends in technology and sustainability.
New technology-driven immigration and hospitality procedures like airport smart gates, contactless check-in and hotel mobile keys have enhanced the travel and tourism experience offered by Dubai.
Driving eco-friendly practices, stakeholders in the local industry are showing a strong commitment to transitioning from plastic bottles, optimising use of natural resources and reducing carbon emissions. Under the theme of 'Working Towards Net Zero,' ATM 2023 has sparked a new dialogue on how stakeholders can work together to build a sustainable travel industry, ahead of the COP28 climate conference that will be held in Dubai later this year.
All of these developments place Dubai's tourism sector in an ideal position to ride the crest of global demand, generate new economic value and investment opportunities, and ultimately help realise the leadership's vision to make the emirate the world's best city to live, visit, work and invest in.
tanvir@dubainewsweek.com