The COP28 is around the corner. The UAE is set to host the mega event from November 30 to December 12, 2023, at Expo City Dubai. As dignitaries gather for this important event, luxury and affordable hotels near Expo City Dubai are in high demand.
The hotels offer convenience and world-class hospitality.
Hotels near Expo City Dubai
These hotels near Expo City Dubai not only offer respite from the intense negotiations and discussions taking place at COP28 but also provide a gateway to explore the vibrant and dynamic city of Dubai.
Let us delve into the options available to ensure your stay during COP28 is as memorable as the discussions and agreements shaping our future. Dubai Newsweek brings you the seven hotels just minutes away from the Expo City Dubai.
1. Rove Expo 2020 Hotel
Nestled in the heart of Expo City Dubai, Rove Expo 2020 Hotel stands as the exclusive on-site accommodation option for Dubai Expo City visitors, cementing its position as the top preference for international guests partaking in one of the most monumental global gatherings in history.
This remarkable property offers an unmatched vantage point, with its rooftop swimming pool and rooms affording captivating views of the iconic Al Wasl Plaza.
The allure of Expo-view accommodation makes Rove Expo 2020 Hotel the favored choice for those seeking an immersive Dubai COP28 experience.
Al Wasl Plaza, often considered the pulsating heart of Expo 2020 Dubai, beckons visitors with its mesmerizing attractions. You can conveniently access Rove Expo 2020 Hotel through the Mobility Arrival Plaza or the Dubai Metro Arrival Plaza, depending on your preferred mode of transportation.
2. Maisan Hotel Dubai
This four-star gem boasts a total of 249 rooms and suites, offering a cozy retreat just 3.2 kilometers away from the Expo City Dubai site.
The commute takes a mere 7 to 10 minutes, ensuring you're in close proximity to all the Expo excitement. Situated near the Dubai Investments Park Metro Station on the Route 2020 line, Maisan Hotel is well-connected for both convenience and exploration.
3. Courtyard by Marriott, Green Community
Nestled in Dubai Investment Park, this four-star hotel near Expo City Dubai is approximately 5 kilometers from the Expo site, making it an excellent choice for those seeking a balance between accessibility and serenity.
Its proximity to the DIP Metro Station on the Route 2020 line ensures seamless connections to the Expo.
4. Oaks Ibn Battuta Gate Hotel
Located in Jebel Ali, Oaks Ibn Battuta Gate Hotel near to the Dubai Expo City stands at a distance of 8 kilometers from Expo City, offering an easy 15-minute commute to the event.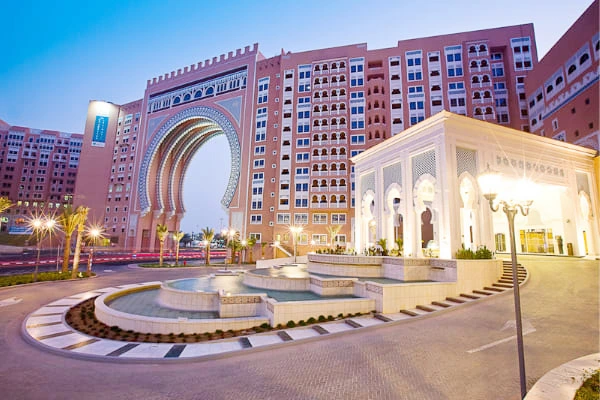 Boasting an impressive inventory of 396 rooms and suites, complemented by 15 apartments, a rooftop swimming pool, a fully-equipped gym, a salon, and an array of dining options, this hotel ranks among the largest and most versatile accommodation options near Dubai Expo City.
5. Aloft Me'aisam Hotel Dubai
Aloft Me'aisam, a chic four-star hotel, finds its place in Dubai Production City, approximately 9.6 kilometers from the Expo site. Accessible by bus, visitors can conveniently reach the Route 2020 Metro stations in Al Furjan and Discovery Gardens, offering a convenient gateway to the Expo City.
6. Radisson Dubai Damac Hills
Welcoming its first guests in 2021, Radisson Dubai Damac Hills is located 12 kilometers from Expo City Dubai. With 481 stylishly designed rooms and suites, each boasting spacious balconies, this four-star establishment offers a luxurious retreat.
The hotel's surroundings include lush golf courses such as the Trump International Golf Club, Jumeirah Golf Estates, The Els Club, and Arabian Ranches. In addition to its proximity to Expo, guests can explore nearby attractions such as Global Village, Dubai Cricket Stadium, IMG Worlds of Adventure, and Dubai Autodrome.
7. Studio One Hotel
Positioned in the bustling commercial hub of Studio City, Studio One Hotel stands at a distance of approximately 16.4 kilometers from Expo City.
This boutique hotel offers 141 rooms, each strategically placed at the forefront of New Dubai, making it an ideal choice for those looking for a unique and vibrant urban experience during their Expo City Dubai visit.
tanvir@dubainewsweek.com