Three eco-conscious Grade 8 students at Swiss International School Dubai have secured a place at the "Junk Kouture" World Finals in London, after designing and making a sustainable dress from used sweet wrappers and plastic food packaging waste.
Violette, Sacha, and Mia, (aged 13 and 14 years old) will be heading to London in October to present their unique dress design, "Candylicious."
The trio are especially excited, as this is the first time they – and the award-winning IB curriculum boarding school – have entered the contest.
Junk Kouture Fashion Contest in UK
Junk Kouture is an annual, global recycled fashion competition which challenges students aged 13 to 18 to design, create and model high-end couture made from recycled materials.
The creative competition takes in elements of fashion, design, engineering and environmental sustainability, encouraging young people to create striking works of recycled couture that wouldn't look out of place on the world's most famous runways.
Unique Sustainable Dress
Violette said: "We chose a colourful, bright design, to convey the impact of pollution nowadays, especially plastic and trash going into landfill. Food industries produce so many packaged foods every day, and all those wrappers can harm the environment. Which is why we ended up using food packaging as our main material."
"We started with simple bases, such as an old bed sheet, a stained skirt and a torn top. After choosing our bases we had to start collecting materials. Halloween was the event that helped us get the most of materials for our project. On Halloween night we went around 'trick or treating' and collecting candy wrappers. From there we expanded the materials we used by using pasta packaging, chip bags, food labels and popsicle sticks," explains Violette.
Swiss International School Dubai team work
The team faced many challenges, from organising their time, working as a team and making important decisions. As Sacha puts it: "Our hat design changed three times, before we chose our final idea. We spent the most time on the skirt, as it is a big part of our dress."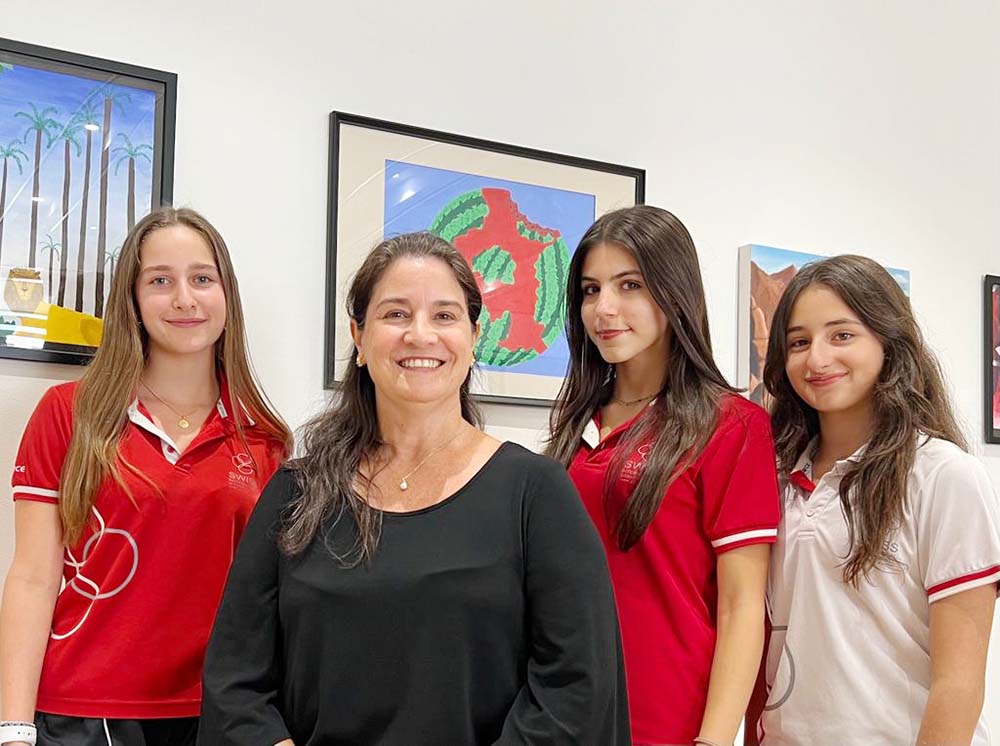 Work was divided between the group. Violette worked on the skirt, doing the sewing and making the train. Mia created the top, using materials such as popsicle sticks and wrappers. She created a unique design to go with the skirt. Sacha created the hat, producing a sturdy base to then build an ice cream cone on.
The outfit, once complete, was then presented at the regional competition, held in Abu Dhabi. Mia modelled the outfit, to the tune Crazy in Love by Beyonce.
Sacha experimented with makeup to create a fun and unique look to complement the outfit.
The team worked on their shortlisted design every Tuesday, with help and guidance from art teacher Teresa Pollard, who said: "I am delighted our design has gone through to the Junk Kouture World Final in London. Only ten designs were selected from the UAE, and with more than 40 design entries in the Abu Dhabi City Final, it is a great achievement for the team and for the school."
"The team – Violette, Mia and Sacha – worked really hard, with creativity and perseverance while promoting sustainability with their design idea made with sweet wrappers – a beautiful design and a wonderful opportunity to showcase their talent on a world stage – I could not be prouder!"
The girls say they were lucky to be allowed to work on the project during school hours, and to be able to take advantage of the Al Jadaf-based school's art tools, such as hot glue guns, sewing machines and mannequins.
"Now we have found out we got accepted to the world finals in London, we are so excited and grateful we made it this far. Candylicious can't wait to present our colourful dress, and hopefully inspire people, while raising awareness of the amount of waste we produce," concluded Mia.
tanvir@dubainewsweek.com