HONOR's latest flagship device, the HONOR Magic V2, redefines the benchmark for folding smartphones while prioritizing the essentials of a top-tier slate phone.
The ultra-slim device is crafted to offer unparalleled functionality and a sleek, sophisticated design that is unrivaled in the market.
Market research shows the svelte form factor of a digital device takes center stage as the core selection criterion of consumers.
HONOR Magic V2
In pursuit of ultimate portability, HONOR has meticulously refined the product structure, manufacturing process, and material selection for its latest flagship, the HONOR Magic V2. This exemplary device provides users with a lightweight and slim form factor, expertly addressing key challenges and setting a new standard in mobile innovation.
For the first time, HONOR has utilized titanium alloy in the hinge cover, an aerospace-grade material and a pioneering innovation in the hinge design of foldable smartphone industry.
Titanium possesses the ideal balance between weight and strength, being lighter than aluminum and stronger than steel. It is a material that embodies the trifecta of ultra-lightness, ultra-toughness, and ultra-corrosion-resistance, making it the perfect alloy for a plethora of applications.
ALSO READ:
After numerous verifications and tests conducted by the HONOR research and development team, it has been proven that when it comes to the hinge shaft cover part, the titanium alloy is a superior alternative to other conventional materials. Compared to the aluminum alloy shaft covers, the titanium alloy exhibits an impressive 150% higher strength, making it a much more desirable option material for a lightweight foldable smartphone.
Meanwhile, the titanium alloy intrinsically has a higher melting point of 1650°C, compared to only 650°C in more conventional foldable hinge materials such as aluminum alloys, which also illustrates HONOR's all-new improved hinge is unparalleled strength.
In addition, HONOR's proprietary steel, a cutting-edge material inspired by steel used in tunnel boring applications, has been expertly created for use in the hinge's main body of the HONOR Magic V2. This innovative material offers a perfect balance between thinness and durability, resulting in a slim and robust design that sets a new standard for excellence.
HONOR Magic Vs
This cutting-edge material is 25% thinner and 20% stronger compared to its counterpart in HONOR Magic Vs.
What's more, HONOR's proprietary steel makes up for 67% of the hinge.
Considering that it forms the majority of the hinge mechanism, the proprietary material complements the titanium alloy to ensure that the HONOR Magic V2 is endowed with the robustness to withstand the wear and tear of everyday use.
The redesigned support structure of the hinge is significantly improved over its predecessor, with thickness reduced by an impressive 75% and the depth of fold marks on the inner screen reduced by 47% .
Furthermore, unique to the HONOR Magic V2's hinge, an advanced "brake caliper" damping structure comprised of seven set of cams – three set more than that of HONOR's previous foldables – that provides a more stable and elegant experience with smooth opening and closing.
Thanks to the addition of this component, the hinge enables an exceptional free hovering experience with different angles, enhancing user experiences with features like hover photography, hover movie viewing, and hover conferencing, among other practical applications.
HONOR Magic V2 Micro Lock
Another latest breakthrough is HONOR's self-developed micro lock, a connective component built with HONOR's proprietary steel. This minuscule component boasts a size equivalent to that of a mere grain of rice, and is 20 to 100 times smaller than its counterparts used in the previous HONOR foldable smartphone. This precision-manufactured, lightweight and robust component is perfectly suited to preventing screen misalignment and creases, ensuring optimal performance.
In HONOR's pursuit for absolute thinness, even inconspicuous components such as screws are innovated upon. Inside the Titanium Alloy Hinge, custom short screws are used to minimize the height of the hinge structure, and they do so without compromising the robustness of the mechanism.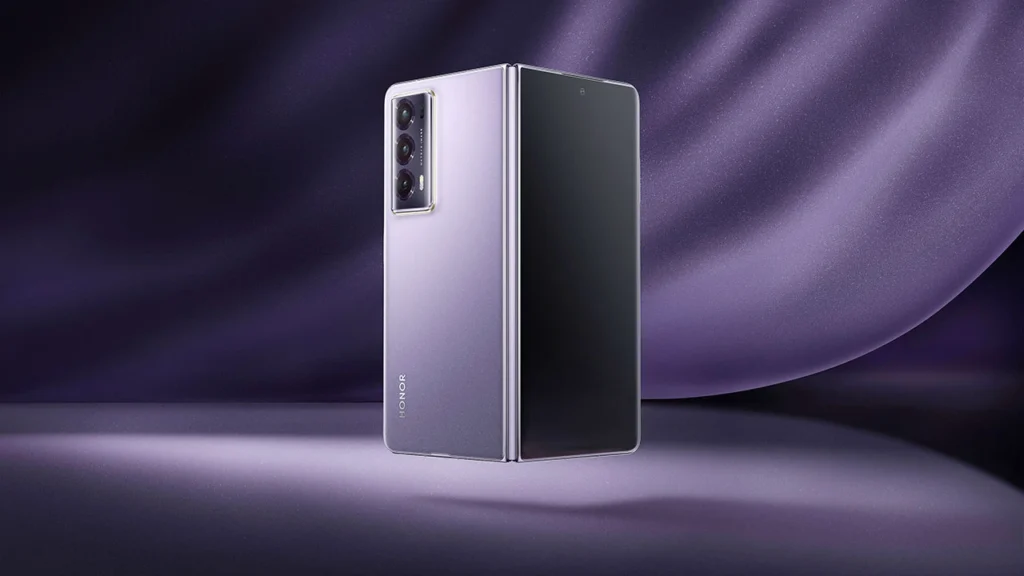 HONOR's proprietary micro lock, applied to the hinge components' connections, represents a breakthrough in craftsmanship. The fusion of ultra-precise manufacturing techniques and robust materials effectively mitigates fold marks resulting from screen misalignments.
Additionally, the custom high-precision nuts – the industry's most accurate and compact nuts (0.75 x φ2.9mm) – offer a one-of-a-kind fastening solution for securing hinge components. This innovative fastening structure outperforms conventional nuts, optimizing space utilization within the device.
HONOR Magic V2 Manufacturing
The mortise and tenon integral molding technology allows successful integration of the hinge shaft cover and hinge body, which significantly reduces the internal space and overall thickness of the hinge. HONOR's innovative approach and its dedication in introducing increasingly "slender" foldable smartphones presents a comprehensive solution to the long-standing issue of thickness in folding displays screens.
Thanks to these breakthrough innovations, the HONOR Magic V2 can withstand more than 400,000 folds . Its exceptional properties pave the way for worry-free usage, even if the device is folded 100 times a day, ensuring a lifespan of up to ten years.
More Space and Power
The traditional "three-layer stacked" screen driver architecture has long been a major obstacle for the putting large batteries in thin and light folding screen mobile phones.
By incorporating a groundbreaking "three-in-one" display driver component, HONOR was able to take advantage of the additional internal space and fit a 5000mAh Silicon-carbon Battery within the HONOR Magic V2.
Embedding a 5000mAh battery into such a slim and lightweight body is a testament to HONOR's unwavering commitment to pushing the boundaries of technological innovation and engineering excellence, choosing the correct albeit challenging path to success.
HONOR Ultra-thin Bionic VC Cooling System
Smartphones, particularly those with powerful processors and advanced features, require effective cooling systems to prevent overheating, maintain optimal performance, and ensure long-term durability.
The HONOR Ultra-thin Bionic VC Cooling System addresses these needs by employing a multi-layer approach, the cooling system incorporates advanced materials such as ultra-thin vapor chamber (VC), ultra-high thermal conductivity graphite, thermal conductivity gel, copper foil, and high thermal conductivity AL middle frame. Despite the constraints of ultra-thin device thickness, this innovative HONOR Ultra-thin Bionic VC cooling system maximizes every inch to deliver exceptional efficiency in cooling.
The bionic VC is designed to replicate the natural thickness of cicada wings, measuring an incredible 0.22mm , and the whole cooling system boasts a cooling area of 29,000 square meters, a 12.5% increase from the previous generation , and adorns the HONOR Magic V2 with another industry-leading accolade .
Antenna Extension Technology 2.0
HONOR has succeeded in developing an ultra-thin antenna, which features a three-millimeter-thin design, making it the thinnest in the foldable industry. Moreover, this sleek design boasts a remarkably 10% higher antenna area than HONOR Magic Vs, delivering the best overall antenna performance in the industry.
Conclusion:
Through a series of enhancements in hinge materials, craftsmanship, and structure, as well as the innovative design of the cooling system and an array of sophisticated thinning techniques, the HONOR Magic V2 has achieved an exquisite 9.9mm ultra-slim and 231g weight form factor.
This remarkable feat is a testament to HONOR's unwavering dedication to pushing the boundaries of materials and processes, exemplifying their pursuit of the pinnacle in design philosophy and intention across research, development, and manufacturing.
With the HONOR Magic V2, foldable screens are empowered to not only rival but also surpass traditional flagship smartphones in terms of elegance, lightness, and thinness. This pivotal accomplishment has hastened the arrival of a new era in the smartphone industry, heralding the foldable screen as the game-changing innovation for future generations.
tanvir@dubainewsweek.com