Dubai's Global Village, a multicultural family destination, launched its 28th season with great enthusiasm on Wednesday.
This year's theme, "A More Wonderful World," promises an even more immersive and diverse cultural experience, reflecting Dubai's inclusive spirit. A spectacular lineup of shows, new attractions and daily performances is awaiting the visitors. Global Village bus route and discounted ticket prices have also been announced.
Global Village Attractions
In its 27th season, Global Village brought together a staggering 9 million visitors, solidifying its reputation as a must-visit destination.
To top that achievement, the 28th season offers an expanded array of attractions running until April 28, 2024. With 27 pavilions, over 3,500 shopping outlets, and an impressive selection of over 250 dining options, visitors have the opportunity to explore over 90 different cultures, making it a true global melting pot.
40, 000 Shows
This season, Global Village has pulled out all the stops, with a packed schedule of 40,000 shows featuring world-class performers, beloved characters, concerts, and street performances.
The Global Village Main Stage will see the likes of AAINJAA, Fusion Japan, and Dhol Foundation taking the spotlight. Meanwhile, the Kids' Theatre will host beloved characters like Peter Rabbit and PJ Masks, promising a treat for all ages.
One of the main highlights is the mesmerizing fire and laser show at Dragon Lake, performed atop the world's largest underwater LED screen, offering hourly shows that promise to leave visitors spellbound.
At the iconic Dallah located at the Gate of the World, never-before-seen 3D projection shows are set to captivate audiences.
To further ignite the magic, Global Village will light up the skies with enchanting firework displays every Friday and Saturday at 9:00 pm.
Carnaval™ offers more than 195 rides and games, while Ripley's Believe It or Not!® Odditorium boasts 10 new exhibits. Notably, the region's largest House of Fear adds to the excitement.
Global Village introduces Mini World, a brand-new destination celebrating cultures worldwide through miniature landmarks, street food offerings, new game zones, adventure activities, and a mini golf zone designed to cater to visitors of all ages.
Global Village Bus Route
To make the visitor experience even more convenient, the Roads and Transport Authority (RTA) has introduced a new bus route, Route 107, from Al Nahda Bus Station, complementing the existing four routes.
Enhanced services include relocating the VIP parking zone to the Cultural Gate, expanding entrances and exits, and adding new lanes to accommodate more vehicles for a smoother journey to and from Global Village.
Global Village Ticket Price
Global Village offers various ticket options to cater to different preferences. The "Value" ticket encourages weekday visits, valid from Sunday to Thursday (excluding public holidays), while the "Any Day" ticket provides flexibility for entry on any day, including public holidays.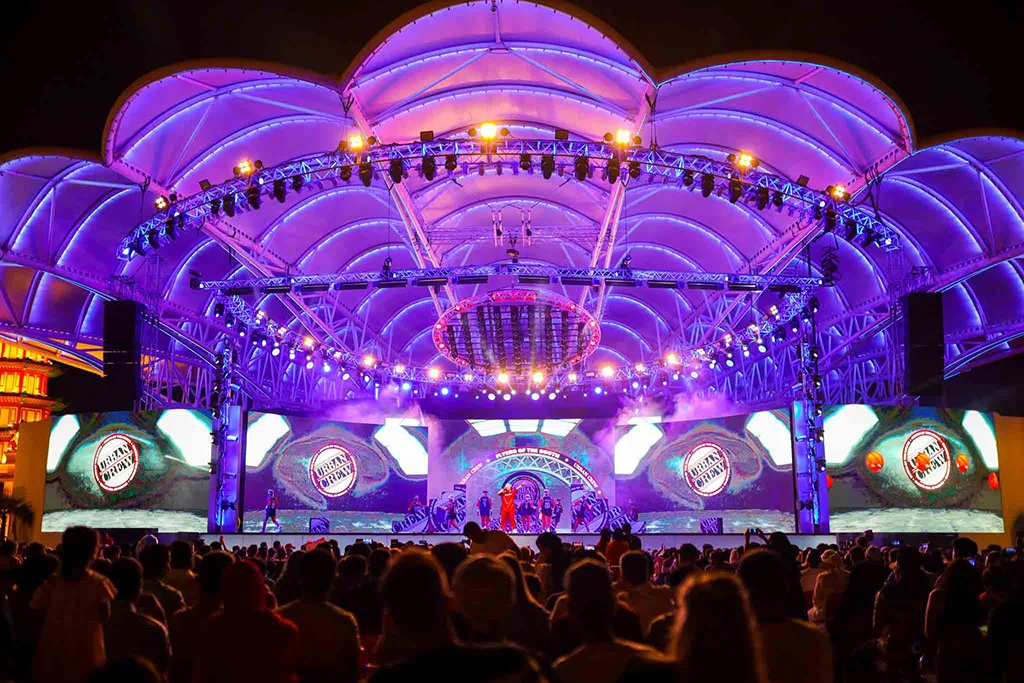 Online purchases of Global Village tickets receive a 10% discount. "Any Day" tickets cost Dhs30 at the gate or Dhs27 online, while Value tickets are priced at Dhs25 at the gate or Dhs22.5 when purchased online.
As Global Village embarks on Season 28, its commitment to providing an enriching and holistic experience remains unwavering, solidifying its position as the ultimate destination for entertainment and cultural discovery in Dubai.
Fernando Eiroa, Chief Executive Officer, Dubai Holding Entertainment, said: "For nearly three decades, Global Village has been a regional and international phenomenon, solidifying Dubai's status as a global entertainment and tourism hub. This achievement owes much to our exceptional teams and partners, who tirelessly contribute to showcasing the world's diverse cultures at Dubai's Global Village. We are thrilled to extend a warm welcome to visitors from around the world for Season 28, featuring an unbeatable lineup of attractions, shopping, dining and entertainment experiences."
Key Highlights
More than 90 cultures represented: Visitors can explore through 27 pavilions, 3,500 shopping outlets, and 250+ dining options.

40,000 shows scheduled: The season offers world-class performers, concerts, street performances, and the new Cyber City Stunt Show.

Mesmerizing fire and laser show at Dragon Lake: Performed atop the world's largest underwater LED screen.

3D projection shows at the iconic Dallah: Never-before-seen shows at the Gate of the World.

Firework shows every Friday and Saturday: Spectacular displays at 9:00 pm.

195+ rides and games at Carnaval™: An array of attractions, including 10 new exhibits at Ripley's Believe It or Not!® Odditorium.

Introduction of Mini World: A new destination celebrating cultures from around the world.

Additional bus route Route 107: Enhancing visitor convenience for transportation.

Ticket options: 'Value' and 'Any Day' tickets cater to different preferences, with discounts for mobile app or online purchases.

Enhanced parking services: Including relocation of the VIP parking zone, expanded entrances, and additional lanes.

Commitment to enriching and holistic experience: Global Village remains the ultimate destination for entertainment and cultural discovery.
tanvir@dubainewsweek.com