DAMAC Properties, based in Dubai, has joined hands with fashion label Cavalli to create a new property development called DAMAC Bay by Cavalli. The 42-storey building, located in Dubai Harbour, will boast interiors influenced by the ocean, including seashell and pearl as well as zebrafish patterns.
The exterior of the building will feature a sleek design that evokes the calm of ocean waves. The three towers of DAMAC Bay will also be connected by a bridge that is designed to resemble Cavalli's aesthetic.
DAMAC Bay by Cavalli offers a variety of housing options, including one-bedroom apartments and five-bedroom duplexes throughout the development. The prices for the luxurious property start at $1.2 million.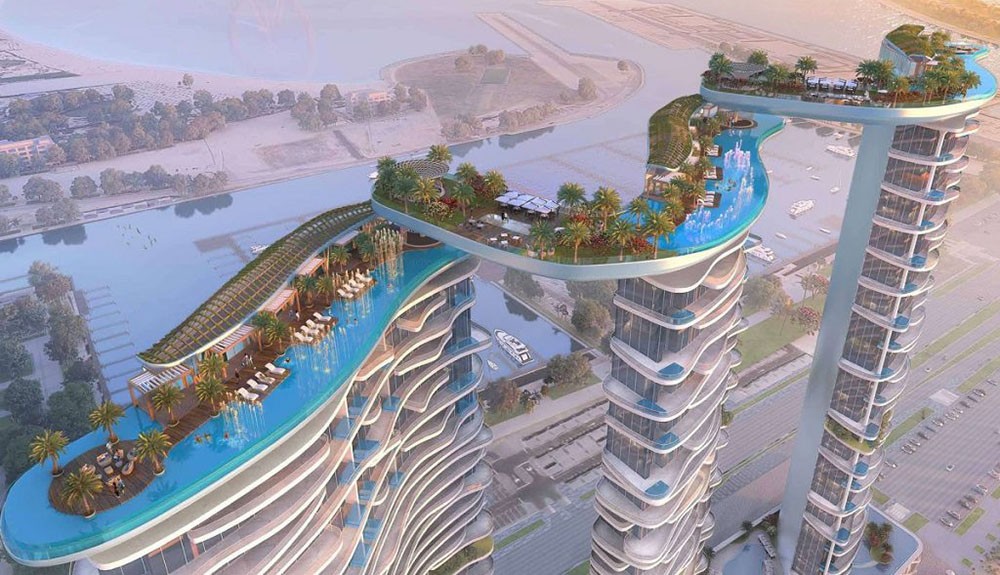 The second to 32nd floors will offer one, two and three-bedroom units. The upper floors of DAMAC Bay by Cavalli, from the 33rd to 42nd, will offer larger units, including three-bedroom and five-bedroom duplexes, designed to offer residents a seafront lifestyle with attention to detail.
Cavalli Lounge
In addition to the larger units on the upper floors, the residents of DAMAC Bay by Cavalli will have access to exclusive amenities such as a private beach, various dining options, and the property's Cavalli Lounge. Each of the units in the three-tower property has been designed to offer a view of the sea.
The Cavalli-inspired towers of DAMAC Bay in Dubai feature unique amenities such as a water maze, snorkeling excursions, hammocks suspended above an infinity pool, floating workstations on the rooftop, and an opera pavilion with state-of-the-art technology overlooking the Arabian Gulf. The property also offers an opera-synced water fountain and a virtual reality school for children.
tanvir@dubainewsweek.com
ALSO READ: