There's only one place to be this National Roller coaster Day on August 16, 2023 – Motiongate Dubai, the largest Hollywood-inspired theme park in the region.
29 Rides at Motiongate Dubai
With 29 exhilarating rides, attractions, and exciting entertainment experiences, it's the ultimate destination for unforgettable memories and spine-tingling adventures for guests of all ages.
Madagascar Mad Pursuit
For the fastest and wildest roller coaster, step aboard the Madagascar Mad Pursuit located indoors within the DreamWorks Zone. With sharp twists and turns through the circus, the action-packed ride will bring out your wild side in this mad pursuit of the Zoosters in the dark.
Dragon Gliders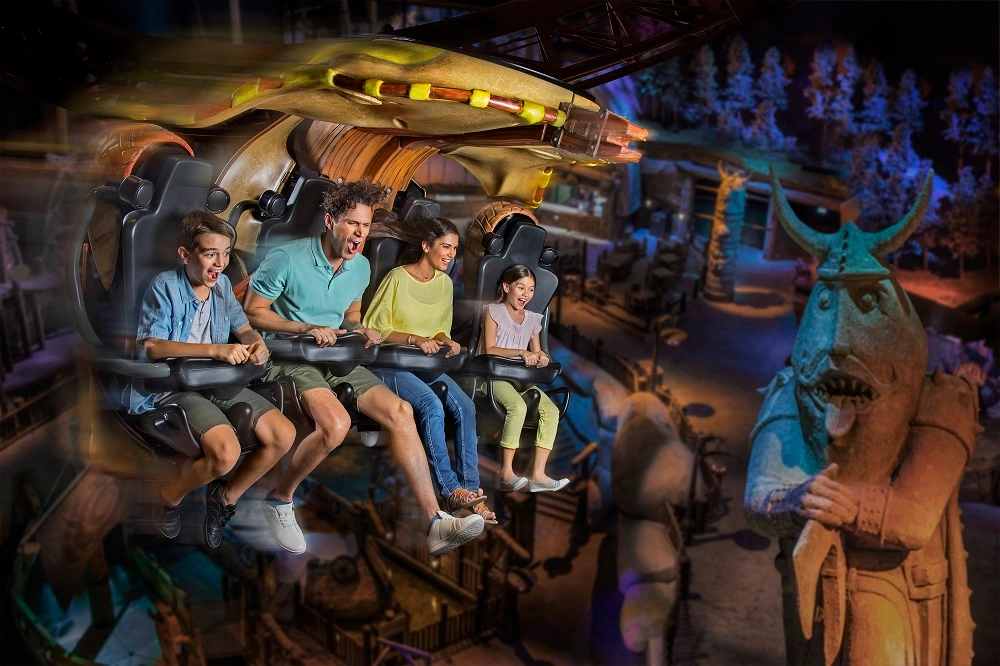 And for those who love How to Train Your Dragon, hold tight as you soar the skies like dragons above the fictional village of Berk on the Dragon Gliders suspended roller coaster adventure. The immersive ride will leave your heart pounding for more.
High Roller
If that's not enough, embark on the world's fastest single-car spinning roller coaster, Now You See Me: High Roller located in the Lionsgate Zone. Inspired by the plot twists of the heist thriller franchise, fans are in for a scream-inducing ride.
Capitol Bullet Train
A tribute to all Hunger Games fans, the Capitol Bullet Train roller coaster at Motiongate Dubai will leave riders experiencing a sinking feeling in their stomachs as they encounter exhilarating speeds and drops. Pro tip: choose the back row seats for an even more epic journey.
The Green Hornet
At the Columbia Pictures Zone, adventurers can explore The Green Hornet: High Speed Chase for a heart-racing roller coaster adventure, complete with jaw-dropping leaps and twists.
Smurf Village Express
Let's not forget the little ones! Junior adventurers can hop aboard the Smurf Village Express and explore the whimsical world of the Smurfs Village Zone, where mushroom-topped houses and charming farmyards await.
Motiongate Dubai Timings, Tickets
Whether it's the heart-stopping roller coasters or interactive zones, everyone is in for endless fun at Motiongate Dubai. The park is open from 12 pm to 9 pm from Sunday to Thursday and from 12 pm to 10 pm on Friday and Saturday.
Tickets are available for purchase on the park's website or at the counter.
tanvir@dubainewsweek.com
ALSO READ: