Dubai: Dubai's Roads and Transport Authority (RTA) and Dubai Police General Headquarters joined hands in outreach and law-enforcement campaigns to raise public awareness and provide educational guidance for bicycle and electric scooter riders.
The campaign employed various channels, including direct field visits and guidance ads in the media and social networks.
Speed limit for e-scooter and bicycle riders in Dubai
Abdullah Yousef Al Ali, CEO of Traffic and Roads Agency, RTA stressed the importance of compliance with traffic safety regulations such as adhering to the designated speed limits, which vary according to the area.
For instance, the maximum speed within residential areas and along beaches is 20 km/hour, while the speed limit on the Meydan lane and streets shared with vehicles is set at 30 km/hour. Seih Al Salam and Al Qudra lanes have no defined speed limits.
Traffic awareness campaigns
The authorities are committed to disseminating traffic awareness messages, including those for bicycle and e-scooter riders in line with Dubai's Traffic Safety Strategy and the objective to transform Dubai into a bicycle-friendly city.
Abdullah Yousef Al Ali, CEO of Traffic and Roads Agency, RTA, said: "In collaboration with our strategic partner, Dubai Police, we had intensified our efforts to educate cyclists and electric scooter users on traffic safety requirements as well as the locations and routes of the dedicated lanes. The campaign is launched in preparation for the winter as the use of bicycles and e-scooters tends to rise."
"We have carried out 90 awareness visits to various locations and organised events across Dubai since the start of this year. The initiatives engaged about 3,000 cyclists and e-scooter riders, providing them with direct information about safety requirements, traffic regulations, and tips about the causes of traffic incidents. They were briefed on how to reach service centres or report any violations."
Dubai police aim to reduce traffic incidents
Major General Saif Muhair Al Mazrouei, Director of the General Department of Traffic at Dubai Police, stressed the commitment to promoting traffic awareness and responsible behaviour among all road users.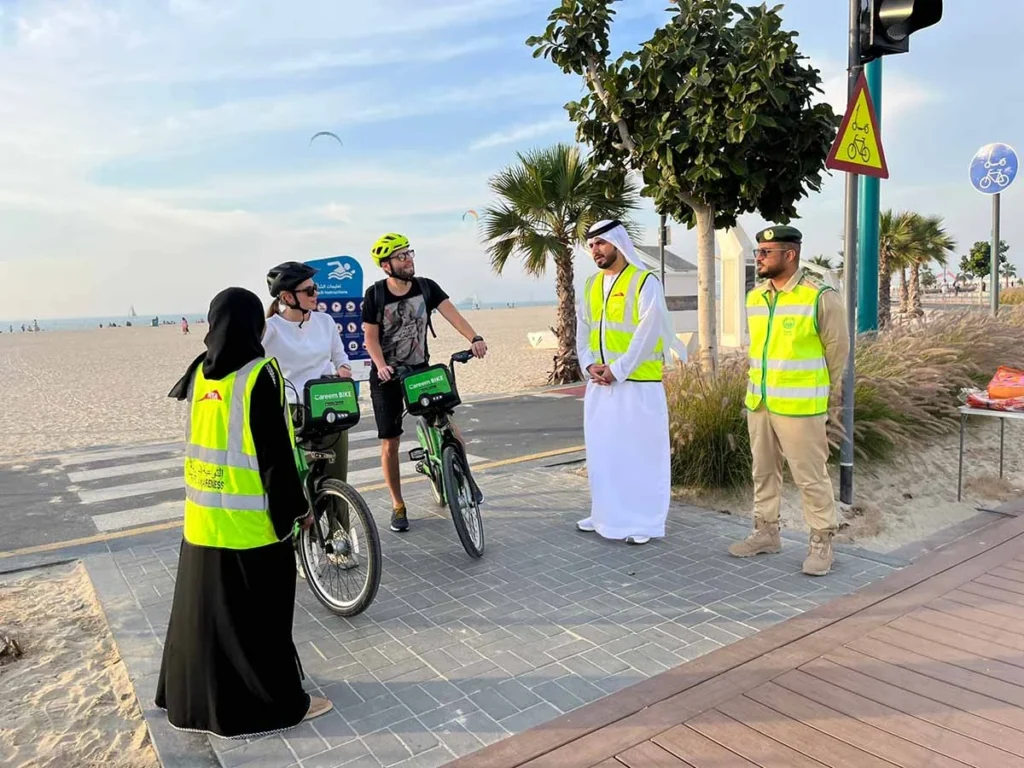 "The goal is to control and reduce wrong practices and reduce traffic incidents along with the associated human casualties. Dubai Police is dedicated to guaranteeing the rights of all road users, including drivers, riders, and pedestrians for road safety. They aim to elevate compliance with traffic regulations which, in turn, contributes to enhancing road safety across the emirate.
"Dubai Police remains keen to offer comfort to road users and to ensure that they feel secure through intensifying traffic control measures to curtail traffic law violations and control drivers who undermine the safety of road users through their reckless actions. These endeavours played a key role in achieving the targeted objectives of reinforcing road safety and lowering the incidence of fatal accidents on Dubai's roads.
Designated areas
"Bicycle and e-scooter riders have been fully educated about the traffic regulations, guidelines permitted riding lanes, and the adherence to all security, safety, and regulatory protocols stipulated for in the designated areas for the safety of users.
"The awareness measures also touched on the necessary safety conditions and precautions to take when operating these mobility modes highlighted by the compliance with the permitted roads and lanes and observing traffic regulations.
ALSO READ:
"Riders were also informed about the importance of wearing helmets complying with the established safety standards, installing reflective vests while riding, fitting a bright, reflective white light at the front and a reflective red light at the back, and equipping bikes and e-scooters with fully functional brakes," explained Al Mazrouei.
"Dubai Police had also honoured several exemplary drivers for their valuable contributions to reducing road accident fatalities and their commitment to comply with traffic regulations," he added.
276 awareness messages till date
The campaign involved a multi-faceted approach to raising awareness through ads, and messages on social and mainstream media channels.
To date, 276 awareness messages have been broadcasted on social media platforms since the start of this year.
Messages appeared on 137 advertising screens, including billboards across Dubai's streets, screens at RTA's customer service centres, and screens of RTA's and Dubai Police partners and operators of scooters and bicycles in the emirate.
About 63,516 individuals obtained permits to use e-scooters within designated routes and areas since the platform had been introduced by the end of April 2022.
Users are encouraged to access RTA's website (www.rta.ae) to obtain complimentary permits that enable them to use this mobility mode in the districts and streets designated by RTA.
The website provides comprehensive resources for bicycle and e-scooter users about locations of lanes and traffic safety regulations.
To view the List of Violations, please enter the link below of the Executive Council Resolution No. (13) of 2022 Regulating the Use of Cycles in the Emirate of Dubai: https://www.rta.ae/wps/portal/rta/ae/home/about-rta/escooter?lang=en.
tanvir@dubainewsweek.com