Luxhabitat Sotheby's International Realty has announced a record-breaking sale for the most expensive penthouse ever sold on the Palm Jumeirah for Dhs220 million.
Most expensive penthouse in Dubai
The penthouse sold was on the topmost floor of AVA at Palm Jumeirah, Dorchester Collection, spanning a built-up area of 33,406 sq ft. The penthouse was sold shell-and-core, allowing the buyer to design the home of their dreams and occupies four floors. It features a 360-degree infinity lap pool and offers views of Palm Jumeirah, Burj Al Arab, and Ain Dubai.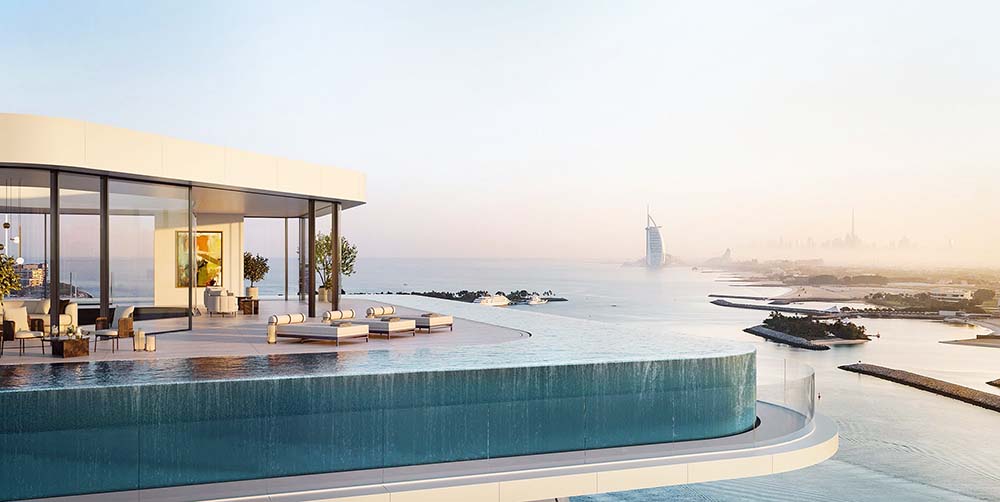 It also has a four-floor 200m indoor garden and a roof terrace with 360-degree views, making it the perfect spot for entertaining and relaxing.
The transaction was for a shell-and-core mega penthouse at AVA at Palm Jumeirah, Dorchester Collection by Executive Partner, Honey Deylami.
Deylami said, "Palm Jumeirah is proven to be one of the most sought-after locations for UHNW clientele. Although there is very limited stock available on the island in terms of existing or new developments, 611 transactions took place on the island in Q1, worth Dhs5.8 billion in sales volume."
AVA at Palm Jumeirah
Ava is a super exclusive development in palm Jumeirah with only 17 residences, AVA at Palm Jumeirah, Dorchester Collection has exclusive residences with direct access to private terraces with a pool, floor-to-ceiling windows, and a stunning 270-degree floor-to-ceiling view private beach and all the 5-star amenities of Dorchester collection.
This development will also boast one of the most stunning penthouses in the world, placed over multiple levels with a private panoramic elevator and private lobby. Due to the nature of the development, there are only simplexes, duplexes, and of course, the sky palace mansion with the largest infinity pool for a residential building which was sold by Deylami.
Situated on the Palm Jumeirah next to OMNIYAT's other flagship property One at Palm Jumeirah Dorchester Collection, AVA at Palm Jumeirah, Dorchester Collection, Dubai will prove to be one of the most exclusive residential addresses in the city.
Luxury Amenities
Amenities include an infinity edge pool, gym, a dedicated in-house spa, boardroom, state-of-the-art cinema room, a library lounge, boardroom & business centre, and yoga studio.
The property will also share facilities such as beach access, restaurant, and jetty access with One at Palm Jumeirah Dorchester Collection. Other services offered by the Dorchester Collection include valet parking, doorman and porter facilities, concierge, maintenance of common areas as well as additional à la carte services.
Who is Honey Deylami
Honey Deylami is currently the top performing broker at Lux habitat Sotheby's International Realty, with over Dhs3 billion sales closed in 2022.
She has now already beat this record at Dhs4 billion sales to date this year and is known for having some of the most covetable exclusive listings in Dubai.
She has closed over Dhs24 billion in transactions since the start of her career. Some of Honey's Dhs200 million plus listings include: a DHs320 million mega top floor 3-level penthouse spanning 24,000 sqft with a rooftop garden, private swimming pool and stunning 360-degree views of the sea, Dubai Marina and city skyline, a Dhs220 million turnkey 6-bedroom Dubai Hills mansion, a Dhs270 million ready to move in 20,000 sq ft BUA Palm Jumeirah mansion, and an 18,500 sq ft mega mansion listed at Dhs202 million in District One.
tanvir@dubainewsweek.com